HuffPost
World Class Theatre in Ashfield, MA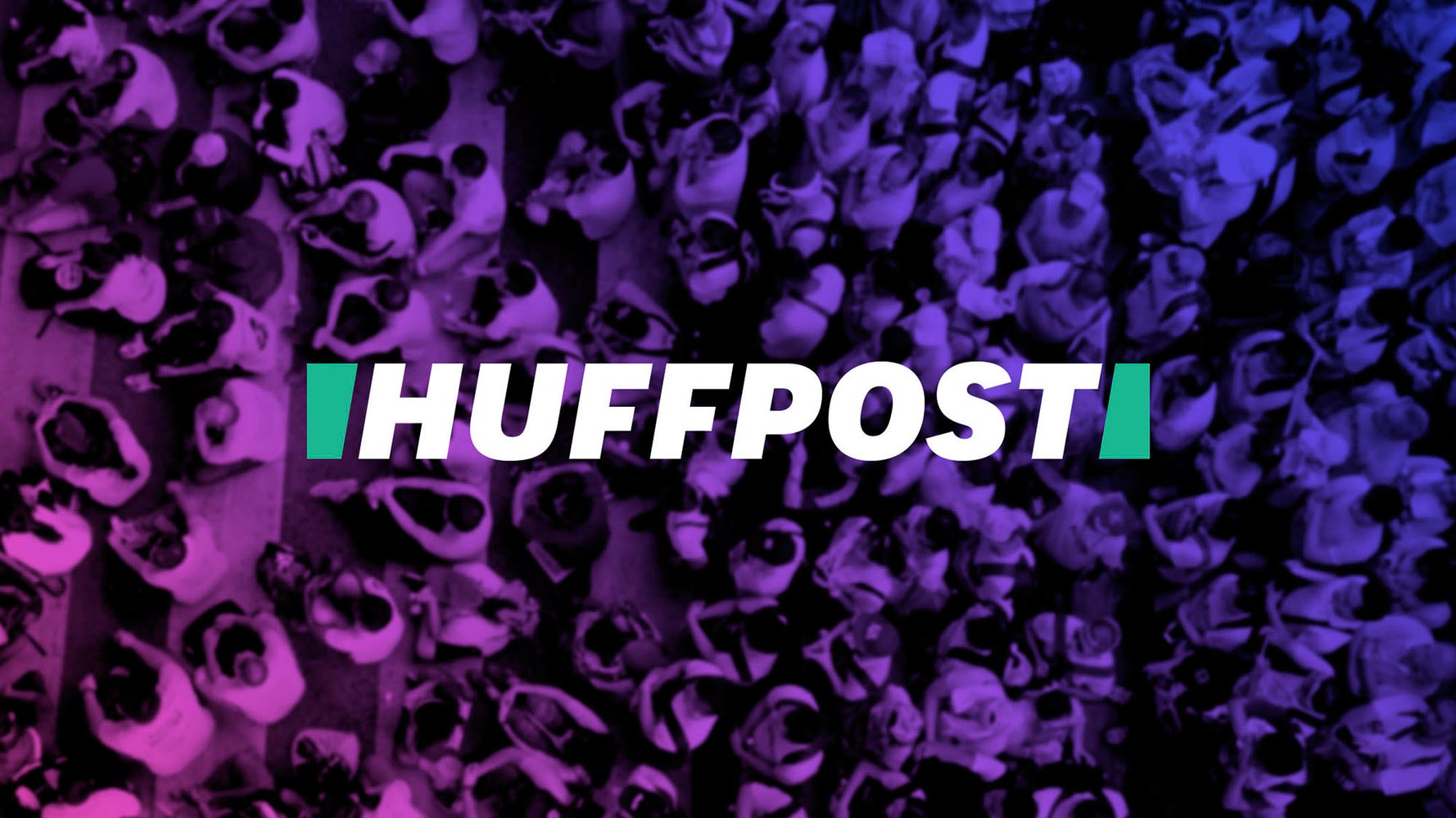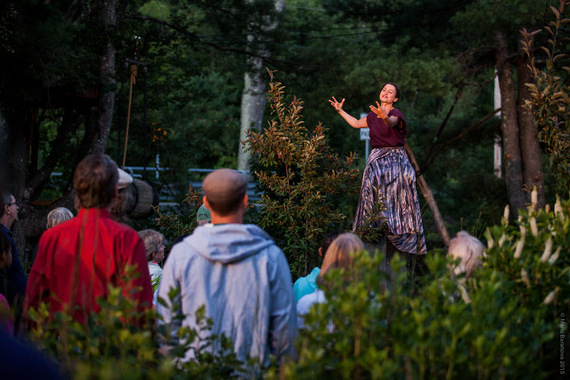 Once again, under the full 'blue' moon and the skies of Ashfield, Massachusetts, I was treated to some of the best theatre there is. While I am not a true theatre critic per say, this is said after traveling Europe for the past two years, making a point to see theatre and dance whenever I could, attending many on and off Broadway shows, and countless black-box theatre evenings. While I have certainly enjoyed many special moments, and risen to my feet in standing ovations during my explorations elsewhere of the theatrical arts, dance and live music, truly nothing compares to the unique natural magic on the farm, presented by the cast and crew at Double Edge Theatre.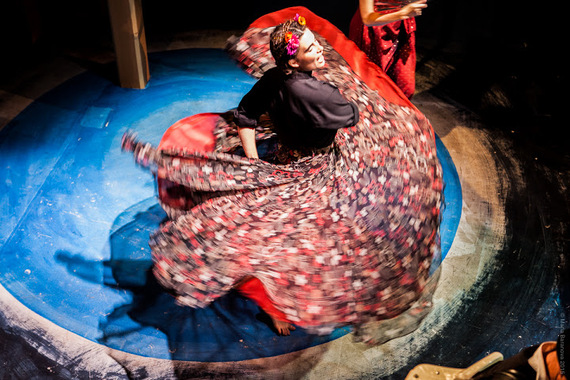 Just as this years show begins with the line "..you can never step in the same river twice. You dip your foot in one moment. And later you return to the river and dip your foot in it again. But that water you touched has gone downstream. Constantly moving. Constantly changing," so does the experience for the audience at Double Edge Theatre. This is what is most amazing; to see their resident farm year after year and experience the same space, transformed into a whole new world.
A year ago, I wrote about their rendition of the classic play Shahrazad, a Tale of Love and Magic, where the audience was transported to the middle east, with authentic tea rooms, genies in trees and actresses as sea creatures swimming through streams to the audiences delight. This year, the audience is transplanted to Latin America as the various vantage points are  transformed for their highly visual and imaginative original work,  Cada Luna Azul (Once a Blue Moon). Taking story from the magic realism of Isabel Allende, Bioy Casares, Lawrence Thornton's Imagining Argentina as well as the popular theatre that co-artistic director and actor Carlos Uriona created in his 20 years of work in his native Argentina. This is truly an international production, all weaved together with live music from Micaela Farias Gomez from Santadiabla, Manuel Uriona from Santadiabla and La Bersuit, visiting from Argentina; along with puppetry from Janko Schnieder from Hungary and Michal Kuriata from Poland.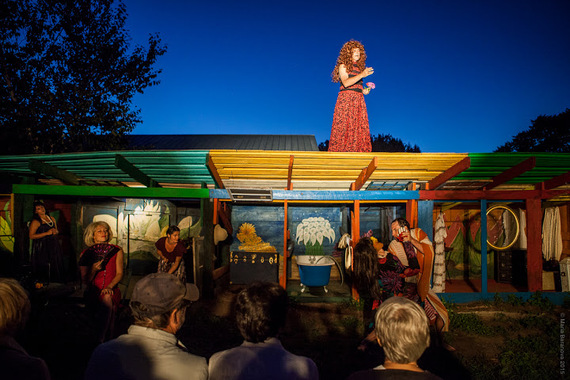 As with any Double Edge performance, what will quickly stand out to any guest, is that you do not stay seated in the same place for the entire show. As the show goes on, so do you. The entire audience begins seated, casually at coffee tables, and benches in what is quickly created into the village green of Aqua Santa. Complete with random locals on bikes passing through, the sounds of authentic latin guitar strums and voices coming from all directions — creating that real feeling of being in a new place, not just in a theatre. A few lucky audience members are even handed a fruit popsicle to try, by The Peddler, played by Matthew Glassman.
The Stranger, played by Carlos Uriona begins telling the story of the sacred waters that lie at the heart of the village, why he has returned, and how to enjoy life as it happens. The real feeling of actually being in a village green in Argentina or Brazil,  just keeps growing with more well played characters, music and dance until it is time for the story, and the audience, to move on. The entire group walks a few moments away, through an ornamental garden, and into a semi circle where Luna, played by a magical dancer and actress Milena Dabova, perches on a stone pillar and makes you believe it, when she begins with "when I was born, I was a bird." Her delicate graceful nature is brilliantly contrasted by a British industrialist, played with great humor by Adam Bright, as he plows through his mission to develop and tame the river that is her home, blasting through whatever may come in his way.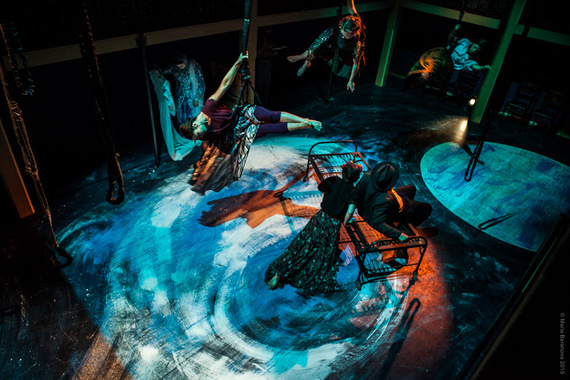 The journey continues on, using the farm streams, woods, barn and pond as stages for what is a story of a beautiful peoples fight for survival, and the trials of industrialization, on a pristine village and it's culture, ending in a flood caused by the sacred river itself. It's a story that speaks to the real present day worries, right here in Ashfield, MA, where local residents are fighting against a gas pipeline that is set to go through their village, presenting potential natural disasters like the flood in the story.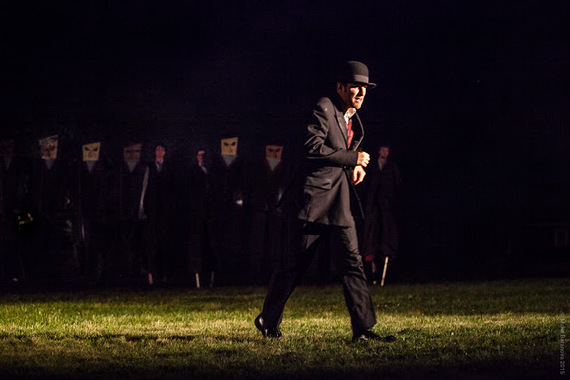 This work feels very real, and very personal to me, and I believe that to the founder of Double Edge, Stacy Klein, along with co-artistic directors Carlos Uriona, Matthew Glassman and writer Jennifer Johnson, it is. It's a statement about their own community, about their water supply and environment, as much as the magical sacred waters of the fictional Aqua Santa. In so many great works of art, the translation into the real world, and the greater statement that is being made, is the real take away.  Appreciate your life, respect the environment, don't assume it will all just go on as it has — life is always changing, like a river, and you must respect the river — this was the take away for me.
It's this deeper thinking, and research that makes these shows linger on in your mind for weeks after you see them. The back story, of how this was all conceived, and the research of Latin America that was explored in order to create the uber authentic scenes, music and dance. Like looking at a massive art installation at Mass Moca, and wondering, 'how did they do all that?', Double Edge also presents the same level of attention to detail and scope, leaving it's audience "wow'd" with it's genius.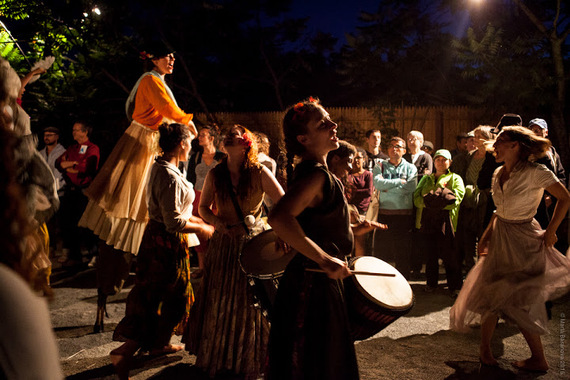 Beyond their summer presentations in Ashfield, Double Edge holds trainings yearly at their farm, and tours their work throughout the U.S. and Europe. The show is sold out this year, with a closed waiting list, but if you plan ahead you may be lucky enough to secure yourself seats to next summers' show, or one in between. Make sure to bookmark doubledgetheatre.com, and check in with their schedule so that you too can experience this spectacular summer theatre. It's one I hope to see every year for the rest of my life, and I will travel here especially to see it as long as I can.
Photos by Maria Baranova.